HOW TO ARRANGE A SKYPE MEETING
Ask for a webcam session with your favourite model
You receive a request to donate 50€. Provide a pdf file finalize the booking.
We will notify the girl who will send you a Skype invitation.
When you accept her invitation you can arrange a specific day & time for the Skype meeting.
Chat & cam is managed through Sensuelas. The time-slots on Skype messenger will be opened and/or closed automatically.
Our models are NOT professional camgirls. They need time to prepare for a meeting.
Minimum 2 hours notice:

Time to contact the model
Time for the lady to respond
Time for the lady to organise

We do NOT provide a cam check.
Some models feel comfortable using their phone cam, others use a tablet or a laptop.
A session will start with a short conversation to find out your preferences.
The session itself depends on both parties taking part. Just like any face to face meetings, you both create the setting of the date together.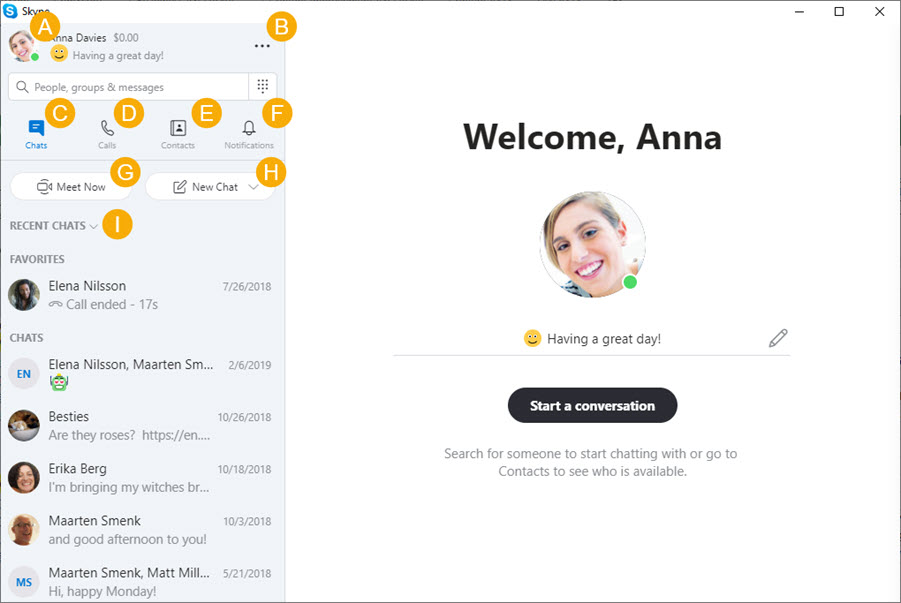 A. Profile – Access and personalize your settings.
B. More – Access your settings, help and feedback, or sign out of Skype.
C. Chats – Find your chats and favourites quickly.
D. Calls – Make one-to-one or group calls or use the Dialpad to call a mobile or landline.
E. Contacts – Find your contacts, view who's active, or invite people to Skype.
F. Notifications – Catch up on reactions, and @mentions, or jump right back into a conversation.
G. Meet Now – Instantly set up a collaboration space with friends and family, even if they're not on Skype.
H. New Chat – Start a new one-to-one, group, or private conversation.
I. Sort Chats – Sort your chats by time sent or unread messages.

HOW TO SEND AN INSTANT MESSAGE

From the Chats tab, select the person or group you want to instant message.
Type your message in the chat window and select the Send button.
To jump to your most recent message within a chat, select the Down Chevron button.
(Not available in Skype for Android 4.0.4 – 5.1.)